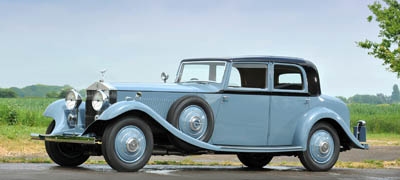 Motor cars of the Rich and Famous
To continue the story of the Phantom II Continental Barker Saloon, Chassis number '57RY' which was renovated by Taylors Limited. This motor car was constructed in 1934 having been ordered by Theodore Cozzika, a prominent Greek industrialist who was living in Cairo. The records indicate that it was intended 'for use on the Continent and Egypt at very high speeds with fairly heavy luggage'.
Background information on the Phantom saw it surfacing at Jack Barclay's London showroom in 1941 where it was sold to Captain G S Davison, of Birmingham. The car had five further owners in the UK up to 1957 when it was sold to J Anker Jensen, of Salisbury, Rhodesia. It was then exported to the USA in 1967, passing through the hands of various owners there until it was re-imported into the UK by the current owner in May 2008.
However it is the early life of this vehicle which is interesting.  The original owner Theodore Cozzika was enjoying an intimate friendship with the retired American movie star, Pearl White.  Their Phantom was used to commute between the south of France and Cairo (via the Marseilles-Alexandria ferry). Pearl White began her professional acting career with a touring theatre company before moving into films in 1910. She became famous for performing her own dangerous stunts and enjoyed a prolific output prior to WW1.  Pearl White is perhaps best remembered for Pathé Studios' 20-episode serial, The Perils of Pauline, in which she was pursued by her wicked guardian and his henchman, getting into all kinds of hazardous situations. Unable to achieve the same success in the emerging feature-length films, she retired in 1923 and moved to France, leaving all her French property to Cozzika on her death in 1938.
Theodore Cozzika owned a Stud Farm in Les Breviaires & bred "Colonist II" which was bought by Winston Churchill & was his most famous racehorse. After his racing career Colonist II became the backbone of Winston's Stud farm. An interesting motorcar and an interesting story I think you will agree.